MICOM SMART SWING

Automatic Swing Door Closer
MICOM SWING is a Fully Automatic and Low Energy swing door operator in one.
Designed to offer long term durability and continuous barrier free access for all.
This carefully engineered automatic swing door operator is non-handed
and ideal for varied applications, providing multifunction use and service across a wide range of applications.
Compact in design with a profile of only 120mm in height. CE, EN16005 compliant.
Quiet and friendly
Quick setup and installation
Non-handed application
300kg load capacity
0-110 degree opening
Fully automatic & low energy use
Safe & long term operation guaranteed
LED Digital control display
Power input 110-230VAC (50/60hz)
24V DC power output for accessories
Automatic spring tension
Electromagnetic lock & battery options
Selector function switch supplied as standard
Push & go (option)
Digital selector switch (option)
Access Control extension board (option)
CE, EN16005 compliant
Overview
Design
Its compact size and aesthetic housing design will compliment any installation project.
Quality
Utilising our trademark control layout together with functional set-up features and powerful motor gear system, we can automate any swing door with ease. Highly reliable, using only quality electronic parts, MICOM SW-SP operators adapt effortlessly to varied door widths and weight capacities.
Installation
Installation is simple and achieved in several steps with all parts installed directly onto the rail, meaning any component can be moved during or after installation. Parts can also be added or replaced with ease, greatly reducing time spent at site.
Wiring
Quick wiring directly onto the control interface board offers a faster means of accessory connection. Communication of all signals and sensor accessories are monitored, complaint with EN16005.
Set-up
Controlled by a powerful 16-bit microprocessor, total door control during the opening or closing cycle is assured. Self teaching parameters allow quick and easy installation.
Parameter Setting
A wide selection of operational parameters are available and can be adjusted to suit individual installations, through the easily accessible LED visual display found on MICOM SW-SP control unit. There is no need for a hand held palm or other expensive devices.
Versatile
By changing a parameter the operator can either be used in the fully automatic role or becomes low energy.
No handed
MICOM swing door operator can be mounted on either side of the door without making any changes. One operator fits to all types of doors. Suitable for single or double doors with hinges or pivots.
Access Control
Connecting a plug-in extension board, the operator can utilise different activation elements such as radio control, tag, proximity keys or cards, etc…
No Handed Operation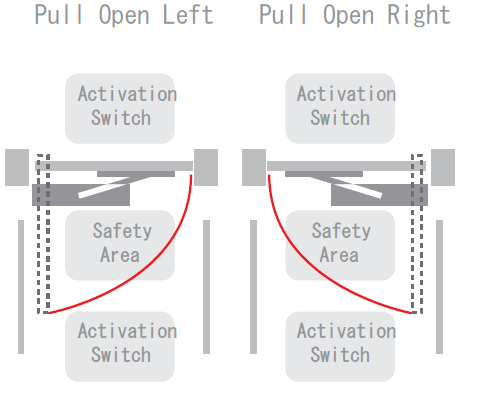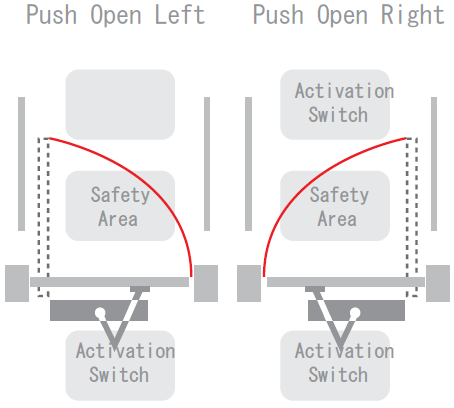 Specification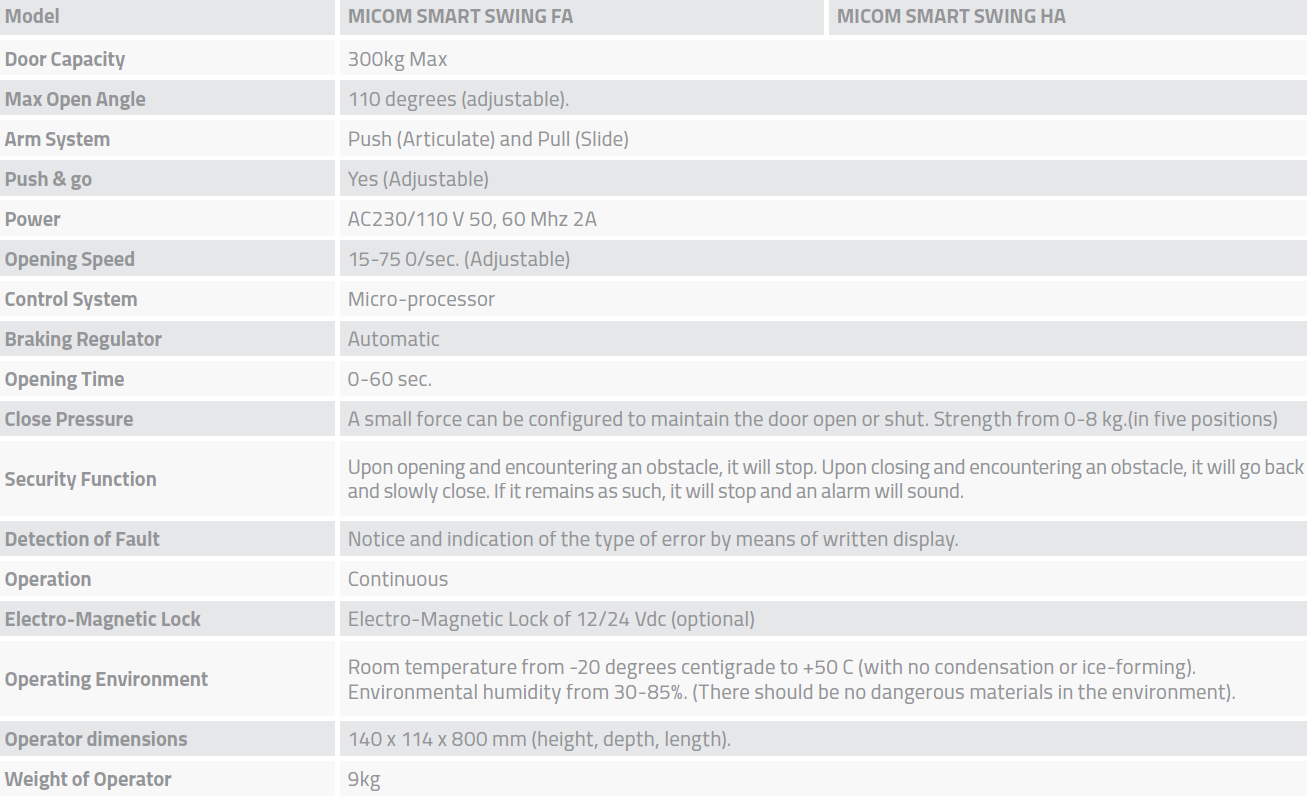 Product detail

No: Description
1. 3 Position Switch
2. Base Rail
3. Control Unit
4. Motor Assembly
5. Gear Box Assembly
6. Door Stop
7. Push Arm (Pull Arm Available)
8. Door Shoe
Control unit

No: Description
1 Gearbox Communicator
2 LED Display Screen
3 E-Lock/Strike 12V/24V DC Output Connector
4 Accessory Connector Terminal
5 3 position Switch (Hold/Manual/Auto)
6 Enter Button
7 Down Button
8 Up Button
9 Menu Button
10 Test/Learn Button
11 Power Input Connector
12 Motor Connector