EDM-MM Series

Magnetic Linear Sliding Door Closer
New and Exclusive pioneering technology from Japan.
Magnetic linear automatic sliding door operators offer new clean technology with super-silent motion for internal sliding door applications.
As the need for mechanical parts have been greatly reduced, MM Series will glide open and closed in near silence. Without a belt drive system and other parts associated with friction, particle production has been greatly reduced. Therefore MM Magnetic linear sliding door operators are highly suitable in areas which are dust and noise sensitive.
CE compliant, meeting low energy requirements of European norm EN16005
Ultra quiet & smooth
Clean technology
Safety features inbuilt
Gentle motion
Push & go
Hold Open
Free Stop (Assist model)
Energy saving (partial open)
Ratchet (flip flop)
Electromagnetic lock (option)
Easy accessible inputs
CE compliant
Low Energy
Overview
Design
MM Magtetic Linear sliding door operators are a new mechanism, driven from the attraction and repulsion between the a magnet and coil.
Quality
Highly reliable, using only quality electronic parts, MM Series Magnetic Linear door operators are designed and manufactured in Japan
Installation
Installation is simple and achieved in several steps with all parts installed directly onto the rail from the front, therefore any component can be moved during or after installation.
Set-up
Door stroke is memorised one-time during initial installation or for servicing requirements. There is no need for the operator to re-learn each time the main power is turned on.
Operation
Magnetic Linear sliding door operators can be activated by either a sensor or push button input or by 'push & go'. Once the door has silently moved open and after the open time has elapsed, the door will close all the while being protected by its threshold safety detection system, before breaking for a soft close at the final closed position. With a number of door functions that can be selected by handling the door.
Silent
As the need for mechanical parts have been greatly reduced, MM Series will glide open and closed in near silence. Employing reinforced resin rollers and an aluminium rail to further eliminate excessive noise.
Clean
Without a belt drive system and other parts associated with friction and wear, particle production from friction has been greatly reduced. Therefore MM Magnetic Linear sliding door operators are highly suitable in areas which are particularly dust sensitive.
Safe & Friendly
Equipped with a very sensitive touch detection system, should the door hit any obstruction, the force of impact is incredibly light. This is followed by an immediate safety return to ensure pedestrian safety is maintained at all times. On returning to the point of impact, the door will slow to ensure the obstruction has been safely cleared.
Delivery
MM Magnetic Linear drive system is available from Japan as a pre-assembled sliding door operator or as a component building KIT.
Compliance
MM Magtetic Linear sliding door operators are CE compliant and meet low energy requirements of European norm EN16005.
MM100 Specification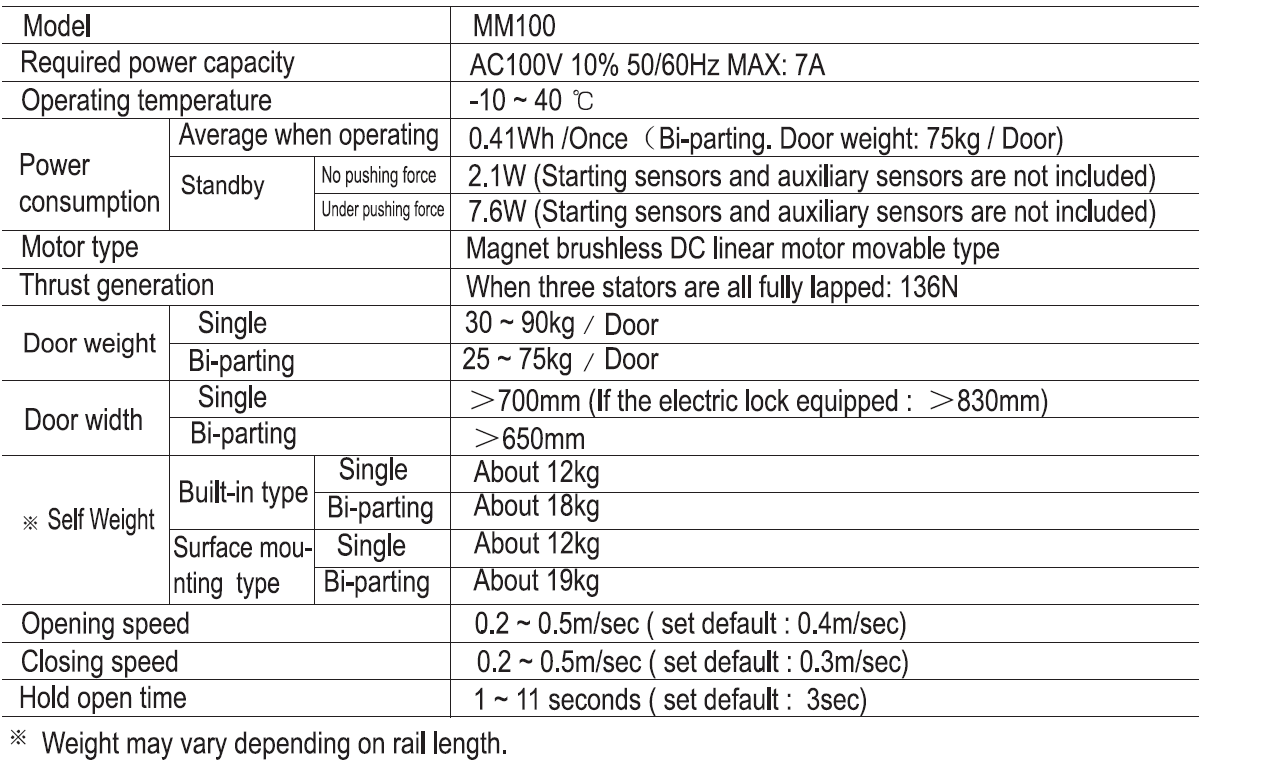 MM50/80 Specification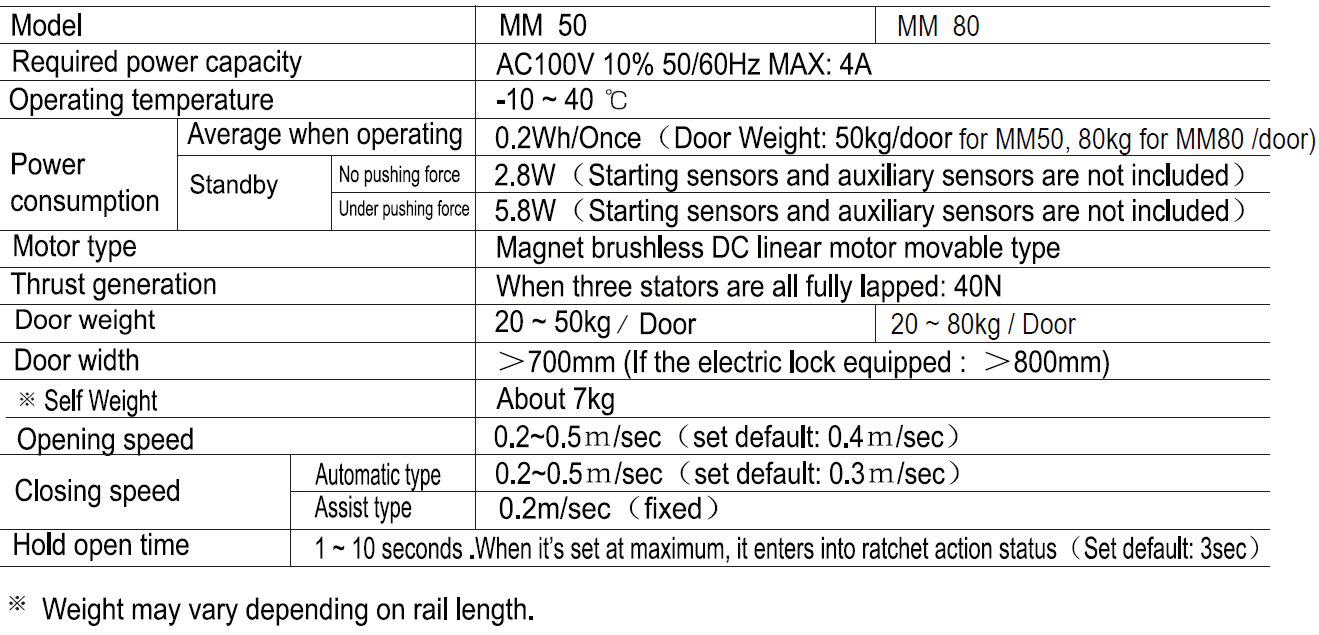 MM30 Specification